For the last 10 years I've been writing about operational excellence. I thought that I would have quickly covered the topic, but I realize that it is far from being the case. More than 100 posts later, I still have a list of topics to be addressed that does not deplete!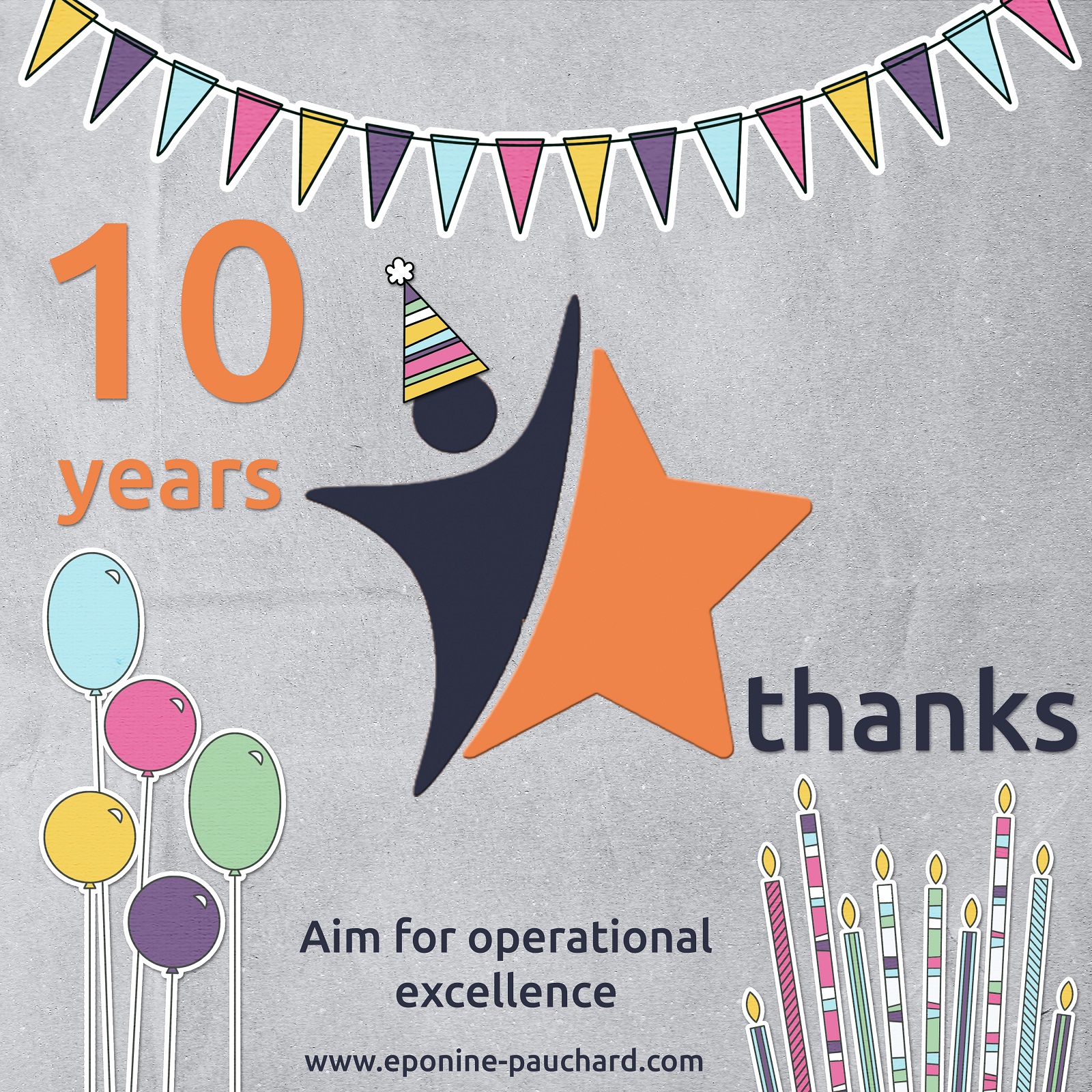 To celebrate these 10 years of blogging, I decided to echo the TED Talk of my friend Karoline Morrissette (French only). Indeed, I have been explaining to you for 10 years how to use and choose the tools and methodologies, I give you examples and invite you to have the right mindset. But what about me? Do I take my own medecine?
I'll share what I use on a daily basis and that helps me the most. I also looked at what I should do more often to make my life easier!
Since 10 years, what I apply all the time
Recognize added value
This is one of the first articles I wrote. I had a lot of fun holding the stopwatch and questioning the added value.
I have a very sharp eye to see waste, wherever I come across it. I can't stop from seeing it. Probably due to my professional experience, or as second nature, I optimize and reduce motion, defects, and try to do good the first time!
Take one small step at a time
Whether it's called Agile, Kaizen or Continuous Improvement, this is my favorite technique. I use it every day in my work:
Make a first version of the document / dashboard / approach / …
Ask feedback from the recipient
Improve
And continue the feedback/improvement loop until you reach expected quality or the time limit. With many small iterations, I reduce the risk and can easily redirect work if required.
Uncover rat tails (cobra effect)
I use this example almost every month. Regularly, when I talk to colleagues, I try to understand the cause of a problem. We often go back to poorly defined performance indicators. My story works every time.
Integrate solutions
Rather than managing change, which involves the recipient's passivity, I integrate solutions. I also move away from traditional project management, which sometimes sees training and change management as the checkboxes of a list.
I'm looking at the value to the organization and the benefits we want to realize. I am talking about the behaviours that users should adopt. Finally, I focus on achieving the benefits, rather than theoretical gains.
What I want to improve in the next 10 years
Set SMART goals
I know where I am going, but in many cases I do not have well-defined goals. As a result, I don't know when I should stop, or when I can be satisfied with what I've accomplished/succeeded.
Without a clear goal, it is difficult to measure my success. So I start right away…
My objective is to publish ten articles related to the operational experience per year on my blog, for the next ten years!
Deepen with the 5 Why and QQOQCP
These are two very simple tools,but I sometimes forget them. My brain tends to go too fast to solutions. I do not take enough time to fully understand the causes of some problems.
My objective is to question with the 5 why every day, to make sure I understand root causes, on personal or professional subjects for a month.
Identify the value chain
In the industrial world, it was very easy. Having worked more recently in a co-op and the government, the value chain is more difficult to identify.
There are clients, who are the people who pay for a service. But also the community, which is a client, even if it does not interact directly. This is enough to add many perspectives and make us forget what the value chain is. When the taxpayer pays his taxes, what exactly does he buy? What is he a customer of?
My objective is to define more precisely the client I work for, in order to know the value chain that I am looking to improve.
Get organized with a virtual 5S
I succeed with some effort to maintain a good level of 5S in my documents, a little less in the documents shared at home.
In the office, I gave up altogether. It's true, everyone has personal habits and preferences. File name, folder organization. How you store your documents is related to how you work and think.
My goal is to find and share an example of an organization that has managed to set up and maintain a 5S in its digital documents by the end of 2021.
Thanks to you, my readers for 10 years (or less)
A big thank you to Igor Ogowet, for his testimony on his use of the blog. Thanks also to all those who send me comments, encouragement or suggestions for articles: Tania Massault, Stéphanie Huard, Martin Boucher, Charles Tilleau, Sophie Puech-Guenot, Maxime Gil-Blaquière, Frédéric Blanpain, Julien Gueniat, Loic Gourmelon, Jean-Sébastien Cotton, Ivan Vallade, Valérie Barthelemy-Barbecot, Tristan Cruciani to name a few.